Well, I am about a row or two into the last square and stalled again. I thought I would finish it last week, but got "out of the mood" to work on it again. Maybe next month LOL!
In the mean time, I've been working on dishclothes and this cotton tote that my daughter is modeling :-) (as you can see, I haven't figured out how to change the date on my new camera yet)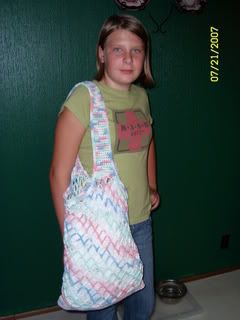 It's been entirely too HOT here to work on anything larger or heavier. I can't wait for it to cool off a bit.
So bought more polar fleece for my next fleece/yarn 'ghan. It's going to be for my nephew for his birthday, I got Tony Stewart fleece, it's his fav NASCAR driver.